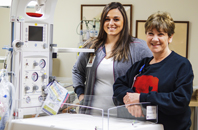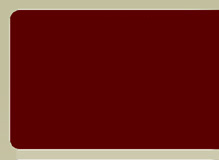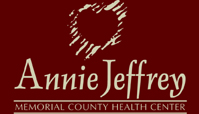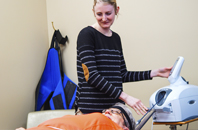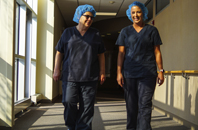 The Physical Therapy Department at Annie Jeffrey Health Center performs over 3,500 patient treatments a year. The department provides physical therapy to both inpatients and outpatients, treating a wide range of patient types from post-surgical strengthening programs, pain reduction programs, gait training and balance re-education. Hot and cold, electrical stimulation, and ultrasound are just some of the modalities available to the therapists to facilitate the patient's recovery.

The Physical Therapists at Annie Jeffrey Health Center are John Makovicka, Director and Kellen Benes, Therapist. John and Kellen have over 40 years of combined experience in the inpatient post-acute care and outpatient care. Upon an initial visit to physical therapy, John or Kellen evaluates the patient's condition and sets up a plan of care for the appropriate rehabilitation. The therapist then treats and evaluates upper extremity, lower extremity, back and neck conditions. John and his professional staff provide rehabilitation services to our community members.

The Physical Therapy Department is open Monday through Friday for treatments of outpatients. Inpatients are seen as often as seven days a week if requested by the attending physician. Please call Annie Jeffrey Health Center at 402-747-2031 for more information.

ANNIE JEFFREY HEALTH CENTER

531 BEEBE STREET

PO BOX 428

OSCEOLA, NE 68651

P: (402) 747-2031